We will work with your facility to help you eliminate any waste being sent to landfills!

The best way to reduce your waste cost is to eliminate waste or divert waste to be reused!
The concept of sustainability, as it relates to waste, is relatively straightforward. Follow the waste hierarchy to eliminate waste from being sent to landfills. Waste should be managed to prevent it in the first place. If it can not be eliminated or prevented, it should be reduced, reused, or recycled. It is easy to have sustainable waste practices, if you simply follow the waste hierarchy!
---
AVOID LANDFILLS
We have designed and managed various waste related programs throughout North America. We provide programs that start at the point of generation of each waste stream. We then evaluate the potential reuse of the items being discarded. We evaluate the options utilizing our waste hierarchy. Our waste hierarchy demonstrates the disposal options. You can see that utilizing a landfill is the last and final option in all circumstances. We are proficient in helping clients to develop a program that eliminates or minimizes the use of landfills for their waste disposal.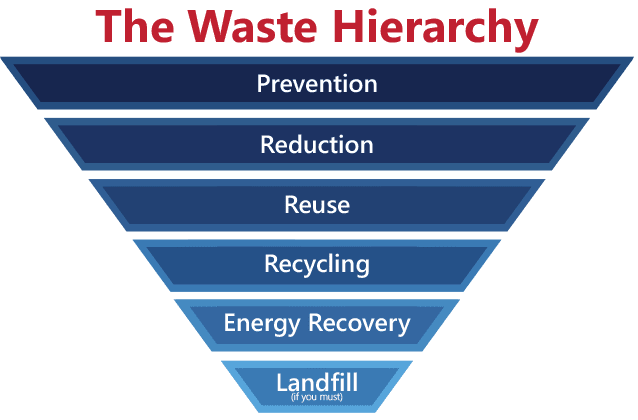 When looking for a  market for a waste stream to be reused or recycled, we need to have three key elements to be successful:
Manageable Volume
Processing Facility
End User
If we have these three key elements, we can establish a successful recycling program. We then determine the most efficient method of collecting, containing and delivering the waste to the recycling center. The recycling center will then process the material for the end user.
We provide evaluations of current waste and recycling programs for our clients. using these evaluations, we provide solutions that increase efficiencies and improve sustainability. We can typically reduce cost as well through increasing efficiencies and improving sustainability,
Waste Audits
The purpose of a waste audit is to evaluate your current waste and recycling practices for opportunities to improve. Performing a waste audit helps us to create a baseline of your facility's waste and recycling volumes and costs. An effective waste audit can be a catalyst for developing and implementing a sustainable waste minimization program! We are able to identify the success of the current waste minimization programs, while offering suggestions to improve the overall landfill avoidance of the facility. Where necessary, we are able to design new recycling programs. Our programs are designed to be simple. We offer solutions that are clear, cost effective, and user friendly. This is how we are able to maximize the results. Our experienced team will conduct a comprehensive study of your current internal waste flow, waste and recycling containers, waste handling equipment, and overall costs associated with waste and recycling. Once our waste audit is complete, we are able to make recommendations on how best to improve your overall waste and recycling programs. Through our audit, your facility will become more sustainable and efficient, typically resulting in lower costs.
Training Programs
We are experts in managing waste and recycling. We are also excellent trainers! Our team provides site specific training programs designed individually for your facility. The best way to ensure a successful waste and recycling program is through proper education coupled with clear goals for your team!
This critical factor to success is often overlooked. Clear communication, is crucial to having the best success rate. Once we identify the opportunities, we develop a training program just for your site. We utilize one-on-one training, train the trainer programs, in-service training, mobile apps, and power point.
We also provide our customers with their own brand and recycling program! We design posters and container markings and signage that are consistent through the facility. This ensures the program is clear and which waste stream is designated for each container. Our programs are designed to achieve your goals and to teach your team how to be more sustainable in the management of the waste and recycling. We keep it simple!
LEED Recycling of Construction and Demolition Debris
There is no reason to landfill C&D waste where reclamation facilities are available. We provide dumpsters for C&D, with a full sorting program. We separate out recyclable materials and reclaim them for reuse. This process was initiated as a need to comply with the US Green Building Council's Leadership in Energy & Environmental Design (LEED) Program. LEED's Green Building Design Rating System requires contractors to recycle as much of their C&D waste as possible. We help to not only achieve this goal, but also clearly track the activity to ensure it is properly recorded. We are able to sort and reclaim most items that go into a construction dumpster, avoiding the use a landfill. We provide this service not only for LEED projects, but also for most of our customers requiring C&D dumpsters. We direct the majority of our C&D waste to reclamation facilities to avoid the use of a landfill.
---
The materials that are removed for recycling are as follows:
Concrete and Rubble
Wood
Metal
Cardboard and Fiber
Carpet and Padding in some cases
Got LEED needs? Let us find a facility that will properly track your C&D for LEED projects. We will ensure that the maximum volumes are recycled, and that clear and accurate reports tracking your containers are provided!
The US Green Building Council's LEED Green Building Rating System provides a nationally recognized green building rating system. We focus on the materials and resources section of the LEED rating program. We provide LEED based waste audits in which we look for opportunities for recycling and cost savings. We understand the recycling markets, and are typically able to find recycling for many items that sites fail to consider for recycling.
---
Contact us today about how we can help you to be more sustainable in the management of your various wastes and recyclables!