ASMAI provides reusable sharps container services as well as on-site technicians to exchange the containers, so your staff does not have to handle them! There are a wide range of benefits to using reusable sharps containers including affordability, sustainability, and convenience.
Benefits of Reusable sharps containers
A reusable sharps container exchange service is a safe, sustainable, and affordable system for the management of needles and sharps. Our company offers a solution to sharps management that has been proven safe and effective through both third-party studies with over 20 years of in-hospital experience.
The reusable sharps system utilizes reusable containers for the containment of needles and other sharps. This is an excellent way to reduce the amount of waste being processed as regulated medical waste. The reusable containers have less of an environmental impact because you are only disposing of the waste inside of the container, and not disposing of the plastic container itself. After the waste inside the container is disposed of, the container automatically opens, is emptied, then is hygienically washed and ultimately, is disinfected prior to being put back into the inventory for reuse.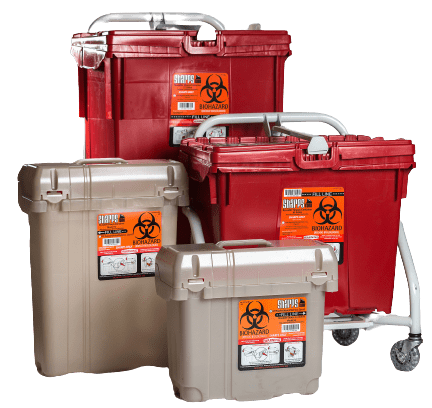 As a value added to our service, we can provide a sharps service technician that handles all of the exchanging of sharps containers. This not only reduces your staff's exposure but reduces their workload as well. We install the container brackets for our customers throughout their facility where the current containers are being used and using existing holes in the wall about 90% of the time. This minimizes the need to patch and paint the walls.
We also track the plastic diversion from the medical waste stream. We are able to calculate how much plastic is diverted from the regulated medical waste stream due to the reusable sharps container exchange services. This is calculated and summarized monthly for our customers participating in this program.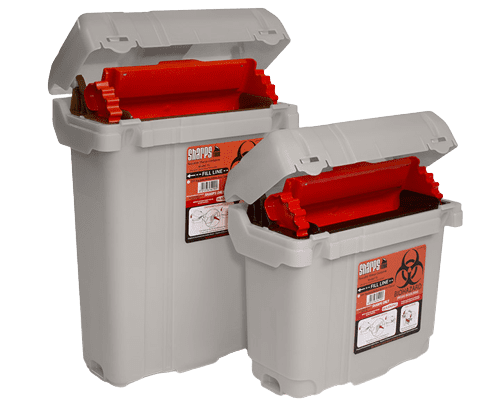 Sharps containers should be:
Made of a heavy-duty plastic;
Able to close with a tight-fitting, puncture-resistant lid, without sharps being able to come out;
Upright and stable during use;
Leak-resistant; and.
Properly labeled to warn of hazardous waste inside the container.
For every 100 occupied beds, a reusable sharps container will:
Reduce plastic waste by 7,000 pounds
Reduce cardboard waste by 720 pounds
Avoids the manufacturing of 4,691 disposable containers
We are committed to assisting you with the safest and most clinically accepted sharps management service in the industry. Please contact our office to get in touch with a Reusable Sharps Specialist!