At Advant-Edge Solutions of Middle Atlantic, Inc., we understand the importance of proper sharps container management. We offer a full selection of sharps containers, both disposable and reusable. 
We provide disposable sharps containers ranging in size from 1 quart up to 18 gallons. Containers have a variety of options for lids, including both horizontal drop and vertical drop styles.
We also offer reusable sharps containers and on-site service technicians who facilitate sharps container exchange, ensuring a smooth process and limited exposure of the facility staff.
Sharps waste is a specific category of biomedical waste that poses a potential risk due to its sharp edges or points, capable of puncturing the skin or causing injury when mishandled. It includes a diverse range of items that require proper disposal to ensure safety.
Sharps encompass various objects commonly found in healthcare and medical settings, including but not limited to needles, syringes, broken glass, scalpels, culture slides, culture dishes, broken capillary tubes, broken rigid plastic, and exposed ends of dental wires. These items, when not managed appropriately, can pose a significant hazard to healthcare workers, waste handlers, and the general public.
According to the Environmental Protection Agency (EPA) definition, sharps are classified as items like needles or broken glass that have the potential to puncture the skin. It's crucial to adhere to proper disposal practices and regulations to minimize the risk of injuries, infections, and the spread of pathogens associated with sharps waste.
By handling and disposing of sharps waste responsibly, healthcare facilities and individuals can contribute to a safer environment and protect the well-being of all those involved in waste management and public health.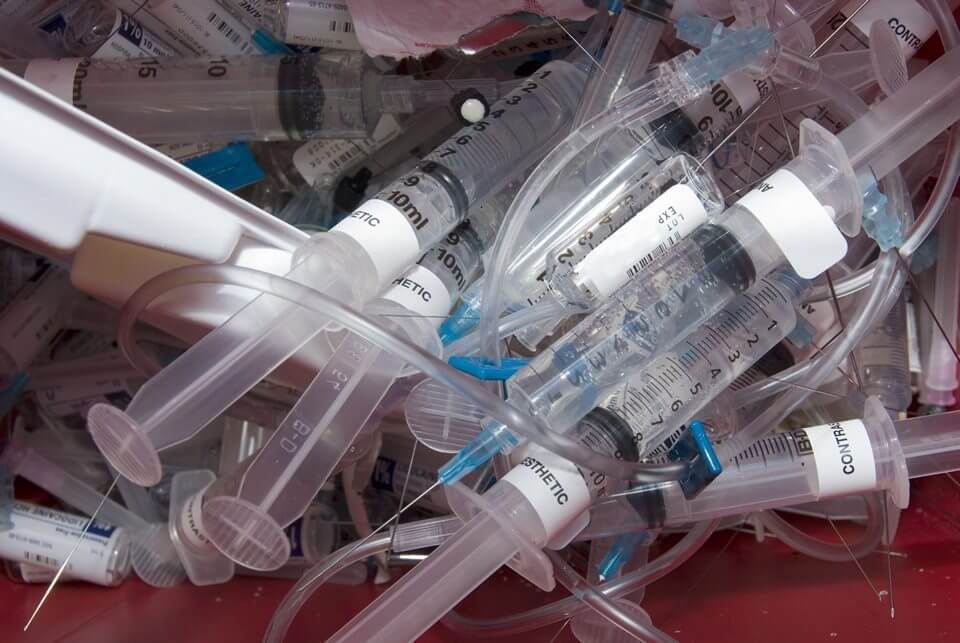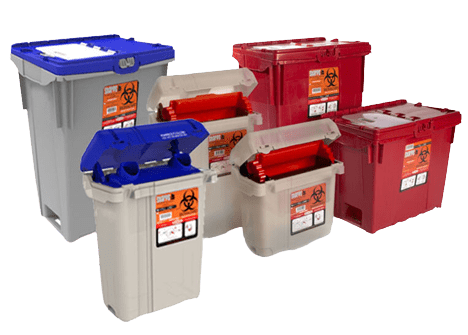 Reusable Sharps Containers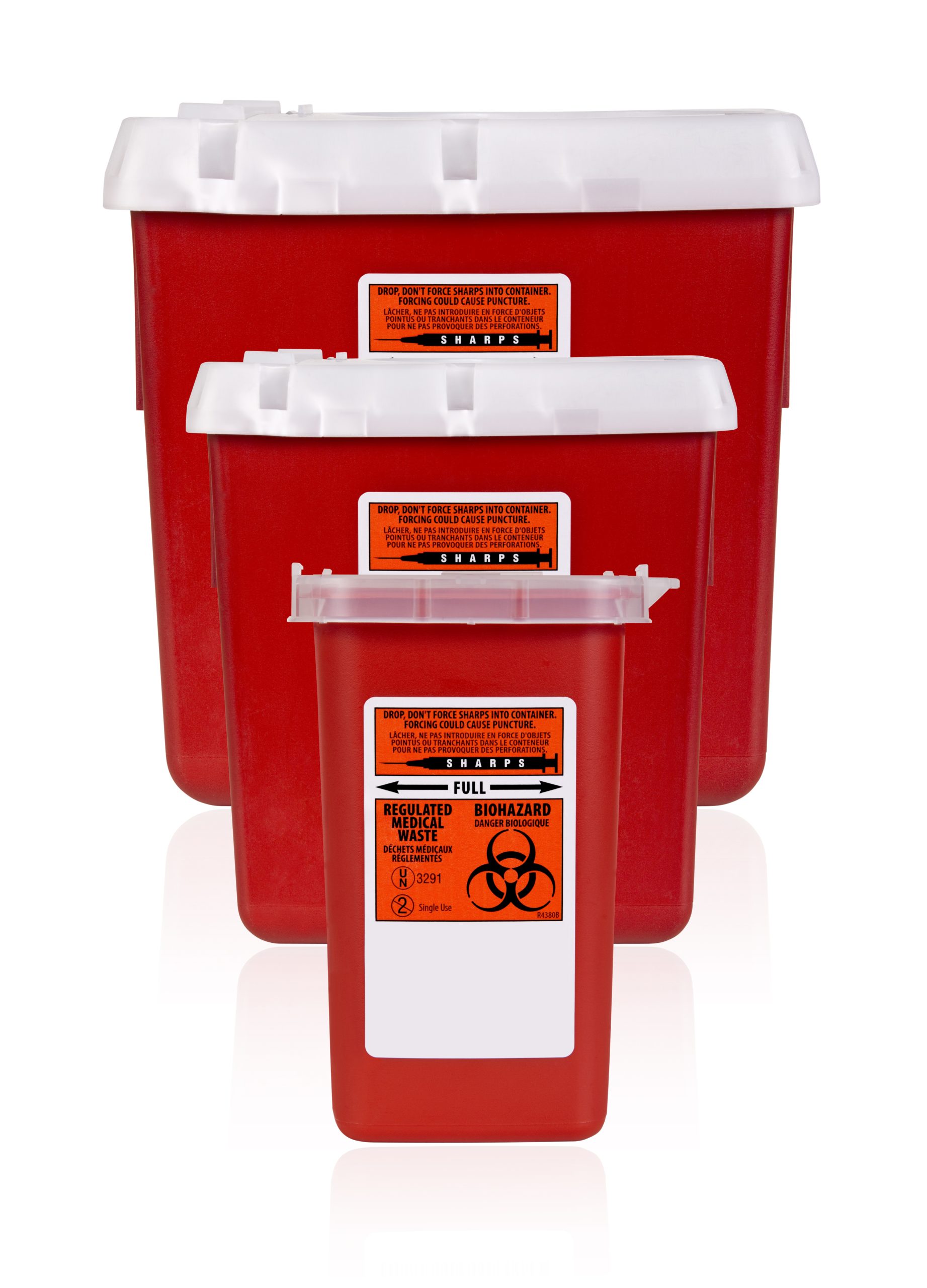 Disposable Sharps Containers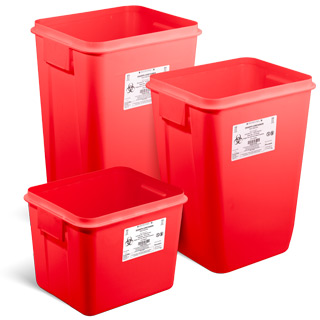 PGII COMPLIANT CONTAINERS
Reusable Sharps Containers
The reusable sharps system employs durable containers designed for the safe storage of needles and other sharp objects. This approach offers several advantages, including:
Reduction in regulated medical waste: By using reusable containers, the amount of waste generated from sharps disposal is significantly reduced, leading to cost savings and environmental benefits.
Sustainable management of regulated medical waste: The utilization of reusable sharps containers promotes a sustainable waste management approach by diverting waste from landfills and minimizing plastic waste.
Hygienic and efficient handling: At the waste disposal facility, the reusable sharps containers undergo automated processes. They are robotically opened, emptied, thoroughly washed, and disinfected to ensure cleanliness and safety before being reintroduced into the inventory for reuse.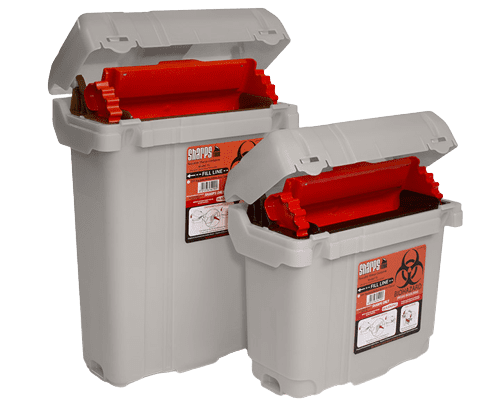 As an added benefit, Advant-Edge Solutions of Middle Atlantic Inc. offers the expertise of an on-site sharps service technician who can manage various aspects of your sharps needs, including:
Hardware and container installation: Our technician can assist with the proper installation of sharps containers and related equipment at your facility, ensuring compliance and convenience.
Inventory management: We can oversee the inventory of sharps containers, ensuring an adequate supply is maintained to meet your needs.
Full container exchange services, room to room: Our technician can efficiently exchange full sharps containers with empty ones, moving from room to room within your facility, minimizing staff exposure and reducing their workload.
By taking advantage of our comprehensive sharps management services, you can enhance safety, streamline operations, and alleviate the burden on your staff. Contact us today to learn more about how we can assist you in implementing an effective sharps management solution.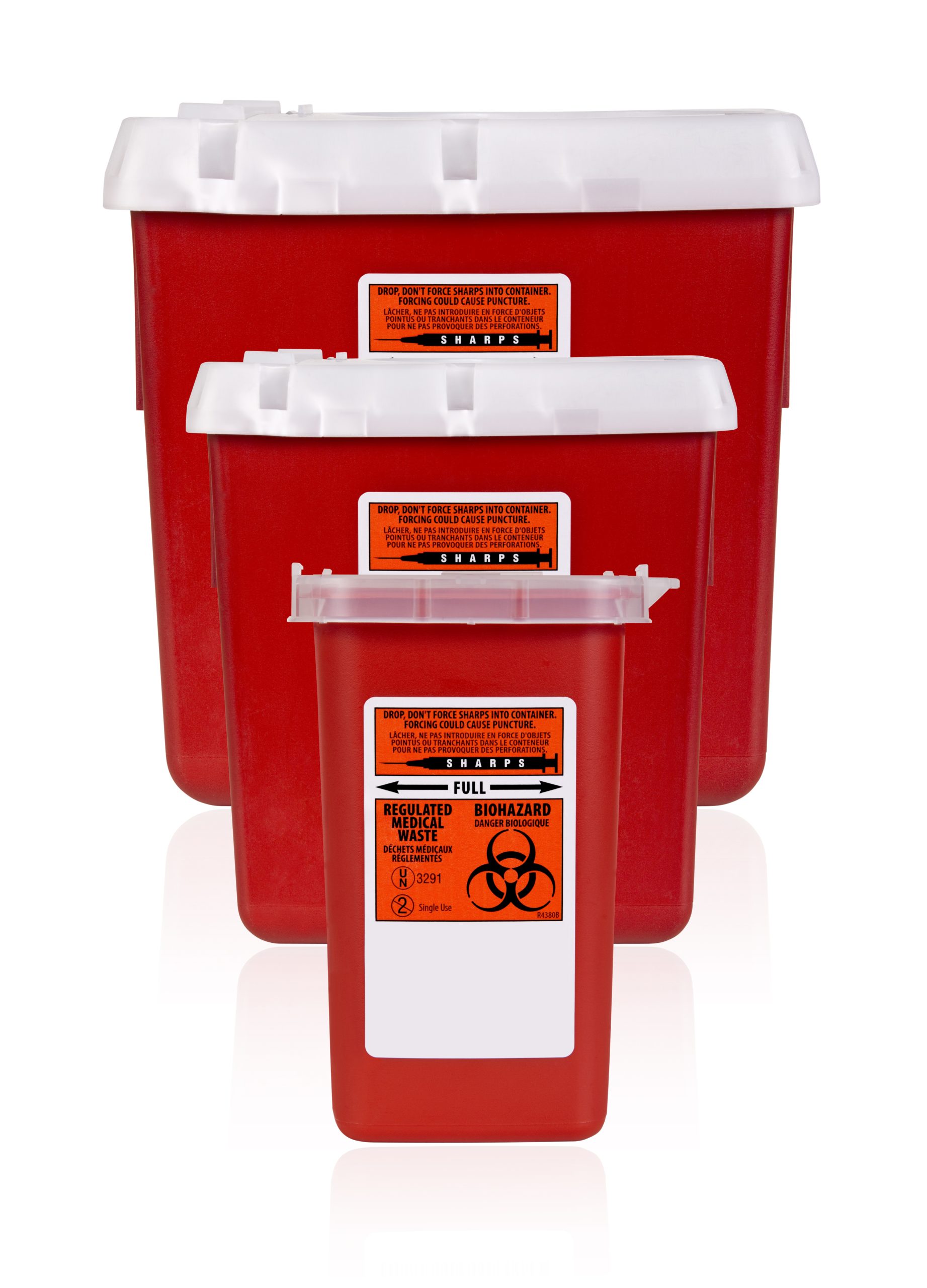 Disposable Sharps Containers
For businesses that have limited storage space, disposable sharps containers are an excellent choice. These containers are designed to nest inside each other, minimizing the storage requirements. At Advant-Edge Solutions of Middle Atlantic, Inc., we offer a diverse range of containers and options specifically tailored to meet the needs of small and medium-sized waste generators.
To further enhance convenience and organization, we provide wall-mounting cabinets, brackets, and floor dollies for easy placement and mobility of sharps containers. Our goal is to provide comprehensive solutions that address the unique requirements of your facility.
With our extensive inventory of containers, we are always prepared to fulfill your order promptly. By sourcing your containers from Advant-Edge Solutions of Middle Atlantic, Inc., you not only gain access to a wide selection of options but also have the opportunity to save on shipping costs.
Contact us today to explore our range of disposable sharps containers and find the most suitable solution for your business!
PGII Compliant Containers
Our containers are well-suited for facilities that require needle disposal, including:
Laboratories
Large research facilities
Hospitals
Mass vaccination operations
Designed with convenience and safety in mind, these containers feature a port lid that can be securely closed between uses. For transportation purposes, the port lid can be locked, ensuring the contents remain secure. Our containers comply with all the packaging requirements set by the US Department of Transportation (DOT), eliminating the need for additional packaging.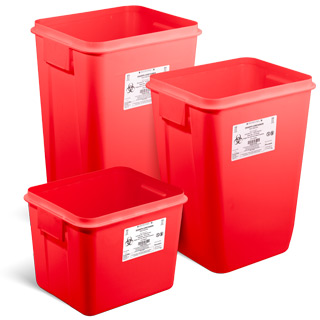 We offer these containers to accommodate both sharps waste and regulated medical waste, providing a versatile solution to meet your specific needs. Whether you need to dispose of needles or other regulated medical waste items, our containers offer a reliable and compliant packaging option.
Contact us today to learn more about our containers for sharps and regulated medical waste. Our team at Advant-Edge Solutions of Middle Atlantic, Inc. is dedicated to providing effective and convenient solutions for waste management in various healthcare and research settings!
Ready to learn more? Contact us today for a free quote!