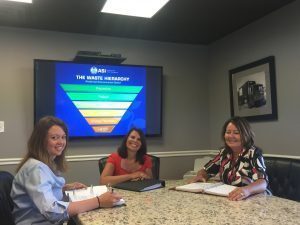 ASI Waste is a family of nationally recognized woman owned companies that provide comprehensive management of all waste related services.  As one of the largest woman-owned companies in Delaware, we bring creativity and innovation to an industry in need of "fresh air." Our programs continue to make managing your waste and recycling simple, while focusing on our environment through eliminating the dependency upon landfills.
Throughout North America, we simplify the management of waste and recycling services by providing a single point of contact to clients for all their waste related needs.
Our unique ability to think outside the box creates opportunities for our customers to reduce their impact on our environment. Our sustainable solutions ensure we eliminate landfill usage and increase recycling wherever possible. The team at ASI Waste has the industry experience, knowledge, and relationships to ensure you have the most efficient and environmentally friendly waste minimization program available. Through our creative sustainable waste management programs we provide the best value for your waste related services, while helping you to protect our environment.
We are able to provide waste and recycling reports for our customers based on monthly, quarterly, or annual periods. We track all waste services, volumes, frequencies and weights for our customers so that they are consistently kept up to date. We keep you informed so that we can make adjustments to waste streams and service levels to minimize your expenses and to maximize your landfill avoidance.
Whether your focus is to obtain a zero waste program or merely to simplify your trash service, having ASI Waste in your corner provides the support needed to reach your goals.
Put ASI Waste to work for you!
---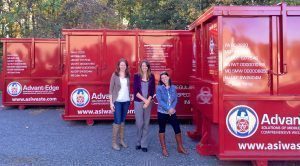 Our Story– after years of experience working in the waste industry, our owners realized there is a need to go beyond standard trash services and to provide a more comprehensive program catering to the specific needs of our customers. We are still are committed to competitive rates and efficient services. We also understand the level of detail our customers need and deserve for their waste tracking and reporting. Our primary focus is ensuring compliance as it relates to the various regulated waste streams that we manage and collect for our customers.
Our Experience– encompasses more than 60 years of combined industry experience. We have owned hauling companies, recycling centers, and highly regulated waste removal companies. We have spent years learning and understanding all facets of the industry and it's changing regulations, allowing us to provide you with the most comprehensive waste management services available today, catered to your business's needs.
Our Knowledge– is your advantage!  We educate our clients on the best practices for their waste disposal and recycling. We focus on ensuring our customers are compliant with all local, state and federal regulations. We stay current with the changes in the regulations that impact our industry through associations, publications, and various agency updates.  We work closely with our clients to comply with these ever-changing regulations. We educate our customers' employees to make sure they are compliant in all their waste handling procedures.
Our Determination– is why there is no better company in the world to work with. We are determined to show you our simple yet creative solutions for your waste and recycling services. Our commitment to landfill avoidance gives you the peace of mind that a better alternative will never pass you by. We are determined to help revolutionize the waste industry by helping our customers eliminate their waste from piling up in local landfills!
Our Commitment– to you, the customer, is to provide you with total confidence and peace of mind that we have your waste and recycling services managed in the most efficient, economical and sustainable manner possible, allowing you to focus on running and growing your business.
Our Goal is Simple- do what you say you will do, when you say you will do it, for the price you said you will do it for.
---
Pretty simple, after all, it is just trash! Contact us today!