Family-Run, Woman owned, Competitively Priced, and Exceptional Service
Advant-Edge Solutions of Middle Atlantic, Inc. is committed to safety, compliance, and environmentally responsible management of Regulated Medical Waste. Since this industry is highly regulated, it is imperative to have a company that is knowledgeable about local, state, & government regulations.
At Advant-Edge Solutions of Middle Atlantic, Inc., we prioritize safety, compliance, and environmentally responsible management when it comes to regulated medical waste. We understand that different healthcare facilities, such as physician's offices, clinics, funeral homes, dental offices, laboratories, veterinary centers, and hospitals, have unique waste management needs. That's why we offer comprehensive management services tailored to your specific facility.
Our expert team is equipped to handle the proper management of regulated medical waste across various healthcare settings. We ensure compliance with all relevant regulations and guidelines, guaranteeing the safe handling, packaging, transportation, and disposal of your waste.
No matter the size or type of your facility, you can rely on us for a complete solution. We provide the necessary containers, collection services, and documentation to ensure seamless waste management. Our commitment to environmental responsibility means we strive to minimize the impact on the environment through sustainable practices and waste reduction strategies.
With Advant-Edge Solutions of Middle Atlantic, Inc., you can trust us to take care of your regulated medical waste, allowing you to focus on providing excellent care to your patients. Contact us today to discuss your specific needs and let us develop a customized waste management plan for your facility.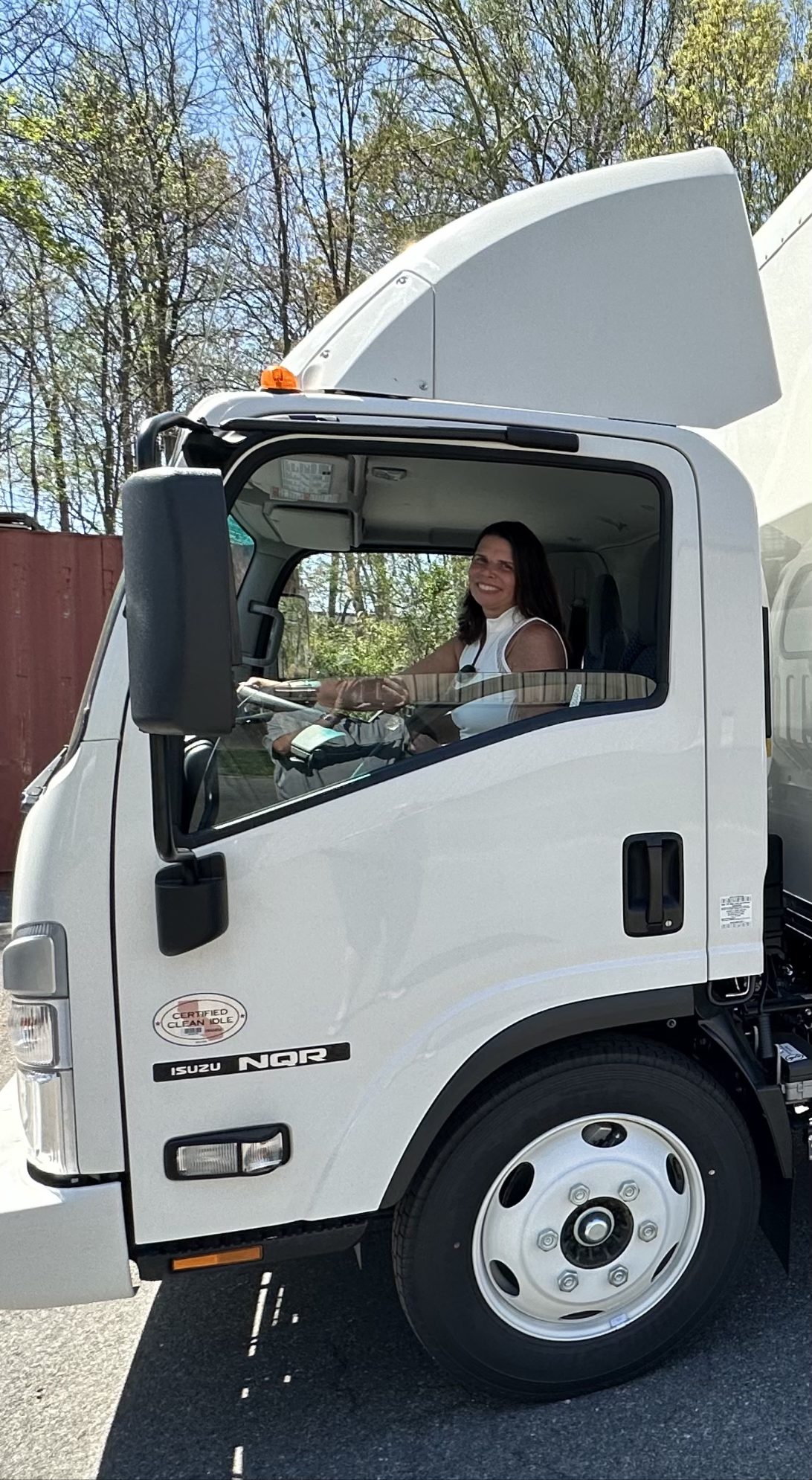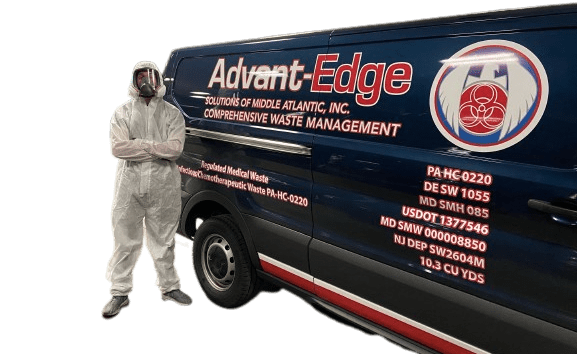 At Advant-Edge Solutions of Middle Atlantic, Inc. (ASMAI), our primary commitment is to safety, compliance, and environmentally responsible management of highly regulated waste streams. We understand the importance of staying up-to-date with regulations and providing the necessary training to ensure continuous compliance for our clients.
We strive to make compliance easy for our clients by offering waste tracking, manifesting, and the required training to meet US Department of Transportation (DOT) requirements and other relevant agencies. Our comprehensive services include clear tracking of waste and detailed manifesting, providing a cradle-to-grave record of how the waste is handled for various waste streams we collect and process.
ASMAI values partnerships with our clients and takes the time to evaluate all available options to handle waste in the most efficient manner possible, while always prioritizing compliance. We ensure that our customers remain compliant with local, state, and federal regulations regarding the waste we manage. Furthermore, we provide guidance on proper waste tracking and training, ensuring our customers are up-to-date with their records and documentation.
To deliver the best solutions for our clients, we conduct thorough reviews of equipment, transportation methods, treatment technologies, and packaging. This allows us to tailor our services to the unique needs of each facility, ensuring efficiency and compliance.
Our track record speaks for itself, as we have consistently provided expertise in cost savings and operational efficiencies. We focus on assigning the right employees to each job, ensuring that we not only meet but exceed our customers' expectations.
By choosing ASMAI, you can trust that your highly regulated waste streams will be managed with the utmost care and adherence to regulations. We are committed to building strong partnerships, offering compliance solutions, and delivering efficient and cost-effective waste management services. Contact us today to experience the Advant-Edge Solutions difference.
What is regulated medical waste?
The term "infectious waste" refers to waste or reusable materials that are known or suspected to contain infectious substances classified as Risk Group 2 or 3. This waste is typically generated in activities such as the diagnosis, treatment, or immunization of human beings or animals, research related to these areas, or the production and testing of biological products. Due to the potential for spreading infections, proper management and disposal of infectious waste are crucial to ensure the safety of individuals and the environment
Regulated medical waste, also known as biomedical waste, refers to waste generated from medical procedures and includes items such as bandages, gauze, personal protective equipment (PPE), and other materials that may be saturated with blood or other potentially infectious materials (OPIM). It is a subset of waste generated at healthcare facilities, including hospitals, physicians' offices, dental practices, blood banks, veterinary hospitals/clinics, medical research facilities, and laboratories. These wastes are considered regulated medical waste due to their potential contamination with blood, bodily fluids, or other infectious materials. Compliance with regulations for the proper handling and disposal of regulated medical waste is essential to ensure safety and prevent the spread of infectious diseases.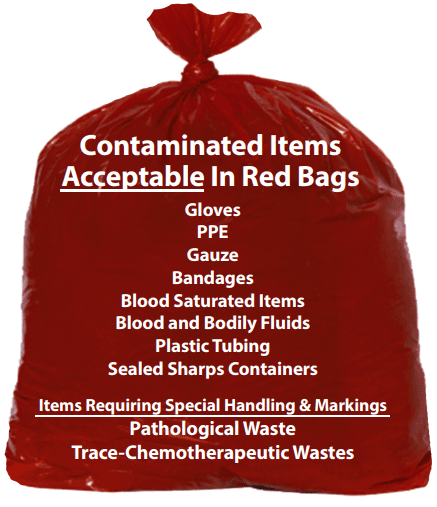 Ready to learn more? Contact us today for a free quote!
What is Trace Chemotherapy Waste?
Trace chemotherapy wastes refer to materials that have been in contact with or may contain a residual amount of a chemotherapy agent. This category includes items such as empty drug bottles or IV bags, as well as personal protective equipment (PPE) like gloves used during the administration of chemotherapy drugs. These materials are classified as trace chemotherapy wastes due to their potential for containing trace amounts of chemotherapy agents. Proper management and disposal of trace chemotherapy wastes are critical to minimize the risk of exposure and ensure the safety of healthcare workers and the environment.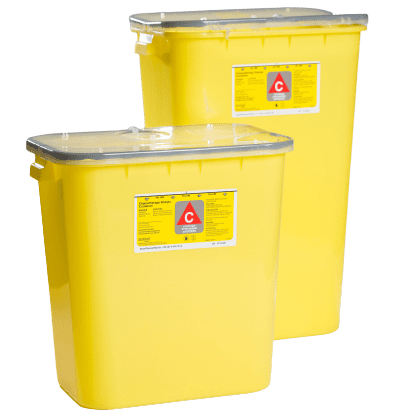 What is Pathological Waste?
Pathological waste is a type of waste that is commonly generated in various healthcare settings such as hospitals, veterinary centers, medical laboratories, clinics, and surgery centers. It primarily includes human or animal body parts, organs, tissues, and surgical specimens that may be preserved in decanted formaldehyde, formalin, or other similar preservatives. Proper management and disposal of pathological waste are essential to ensure the safety and prevent the spread of infectious diseases. Compliance with regulations and guidelines for handling and disposing of pathological waste is crucial in healthcare facilities to protect the health and well-being of healthcare workers, patients, and the environment.
At ASMAI, we specialize in the treatment of regulated medical waste (RMW) through incineration and autoclaving methods. Our top priority is to provide assured handling and destruction of RMW for our clients, ensuring compliance and peace of mind.
One key aspect of our service is our commitment to maintaining comprehensive documentation. We retain manifests, which serve as detailed records of the treatment process, for a minimum of 5 years. This allows us to provide our clients with immediate access to documentation that verifies the proper treatment of their waste.
We understand that proper management of regulated medical waste involves tracking every step of the process. From the point of generation at your facility to the ultimate treatment and disposal, we ensure that each stage is carefully monitored. Our focus on meticulous tracking provides our clients with complete confidence and security in the assured management of their regulated medical waste.
By choosing ASMAI, you can rely on our expertise and dedication to ensure that your regulated medical waste is handled in a safe, compliant, and environmentally responsible manner. We prioritize transparency, efficiency, and timely documentation to support your waste management needs.
Contact us today to discuss how our treatment services and comprehensive documentation practices can meet your specific requirements for regulated medical waste management.
Standard Regulated Medical Waste Containers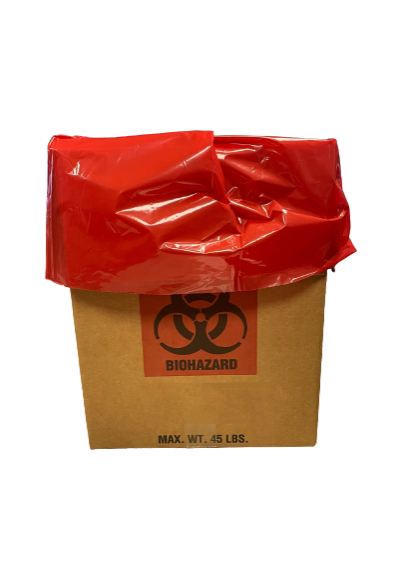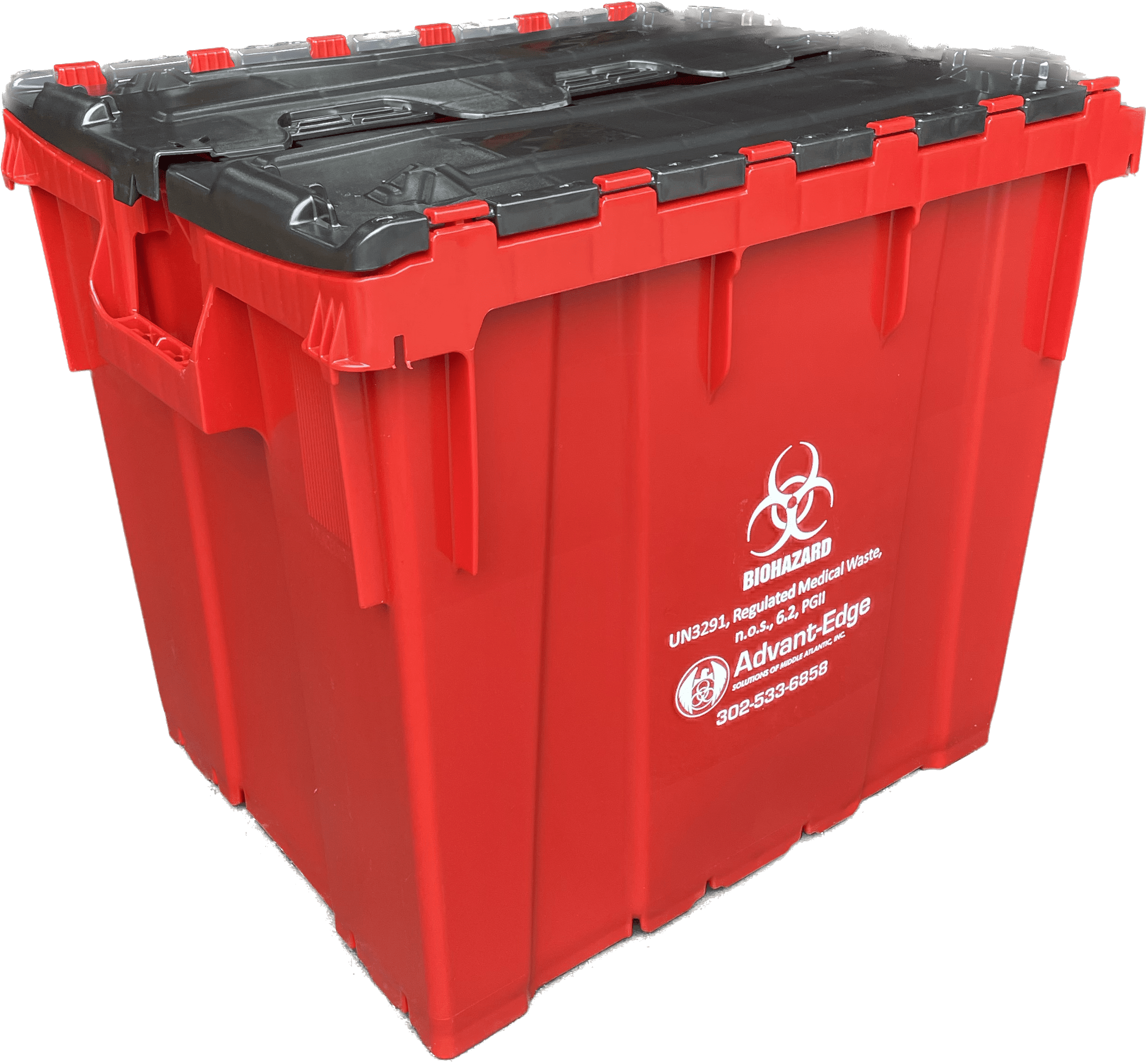 31 Gallon Reusable Container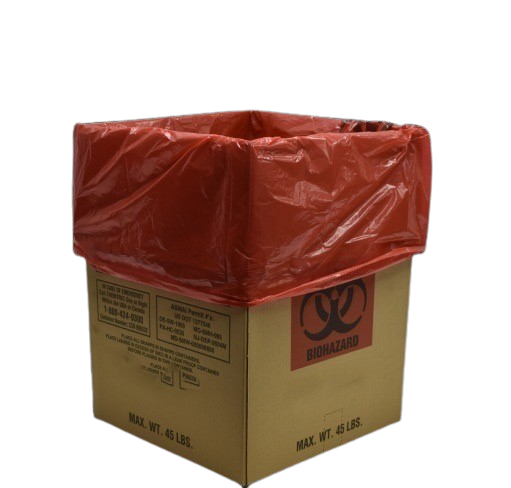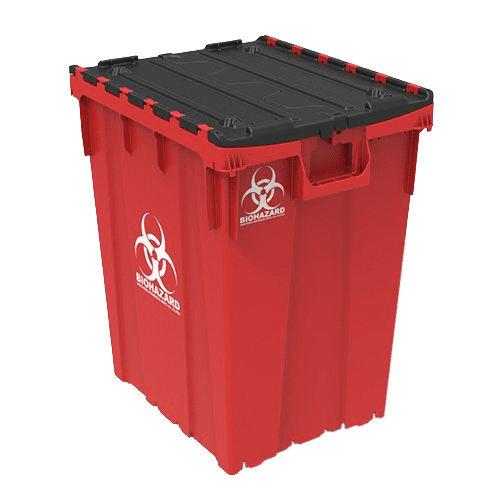 43 Gallon Reusable Container
Bulk Outer Packaging Containers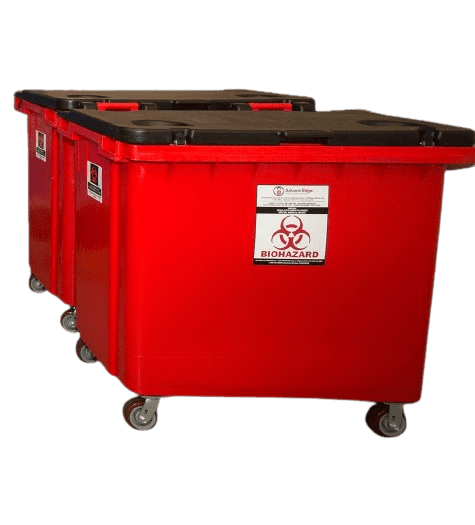 200 Gallon Reusable Container

48 cu yd Medical Waste Roll Off Containers
Requires Bulk Outer Packaging Training
Call Advant-Edge Solutions of Middle Atlantic Inc. today regarding your regulated waste streams so that we can assist you in analyzing your services for efficiency, cost, and compliance!