While we specialize in regulated waste management, here at Advant-Edge Solutions of Middle Atlantic Inc., that isn't all we do!
We provide on-site services for our customers for everything from collecting waste and exchanging sharps containers, to full dock management programs including janitorial and maintenance projects.
Don't have the Staff? Contact US TODAY!
ASMAI offers professional staff members who are experienced in handling various waste streams at your facility. Our skilled technicians can assist you with the proper handling, collection, consolidation, and packaging of different types of waste. Here are some of the waste streams we can help you with:
Hazardous Waste Rounds, Collection & Consolidation: Our trained technicians can safely collect and consolidate hazardous waste materials in compliance with regulatory requirements. We ensure proper packaging and labeling for transportation and disposal.
Reusable Sharps Container Exchange Services: We provide a convenient and safe system for the exchange of sharps containers, ensuring the proper handling and disposal of sharps waste, provided by one of our highly trained technicians.
Pharmaceutical Waste Rounds & Collection: Our staff is knowledgeable in the collection and handling of pharmaceutical waste, ensuring compliance with regulations for the proper disposal of expired or unused medications.
Solid Waste Collection: We offer reliable collection services for solid waste, ensuring proper segregation and disposal based on waste management guidelines.
Recyclables Collection: We can provide the collection and management of recyclable materials, promoting sustainable waste management practices and environmental stewardship.
Universal Waste Collection & Packing: Our technicians are trained to handle universal waste, including batteries, lamps, and electronic devices. We ensure proper collection, packaging, and transportation of these waste streams for recycling or proper disposal.
Dock Management: We can provide efficient dock management services to streamline the handling and transportation of waste materials, optimizing logistics and ensuring smooth operations at your facility.
At ASMAI, we understand the importance of proper waste management and compliance. Our dedicated staff is equipped with the knowledge and expertise to handle various waste streams, ensuring safe and environmentally responsible practices. Let us support you in managing your waste efficiently and effectively.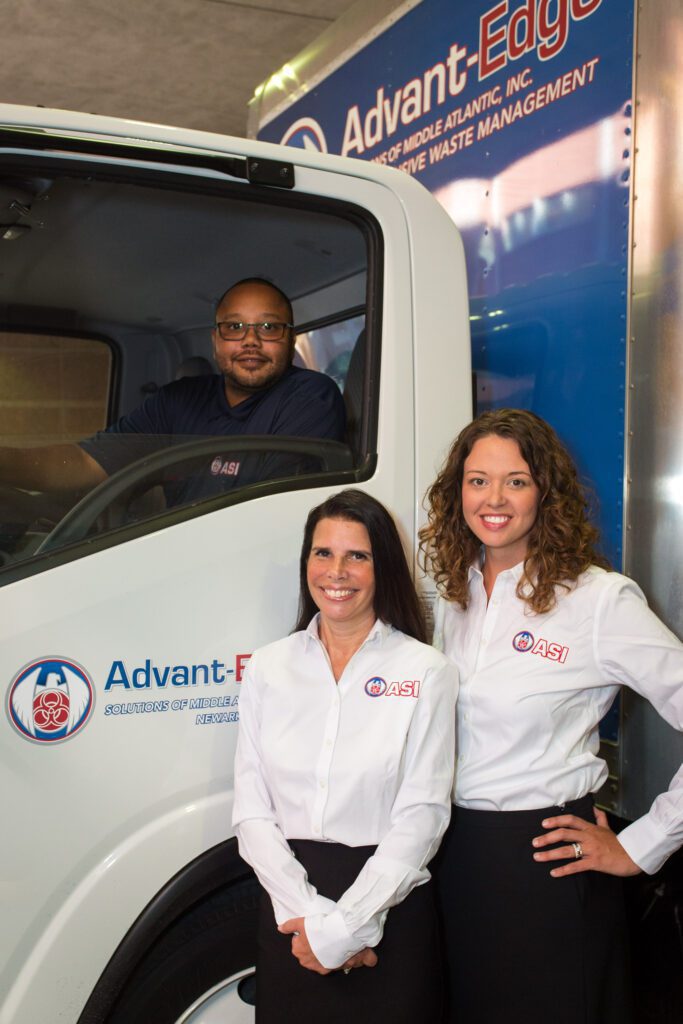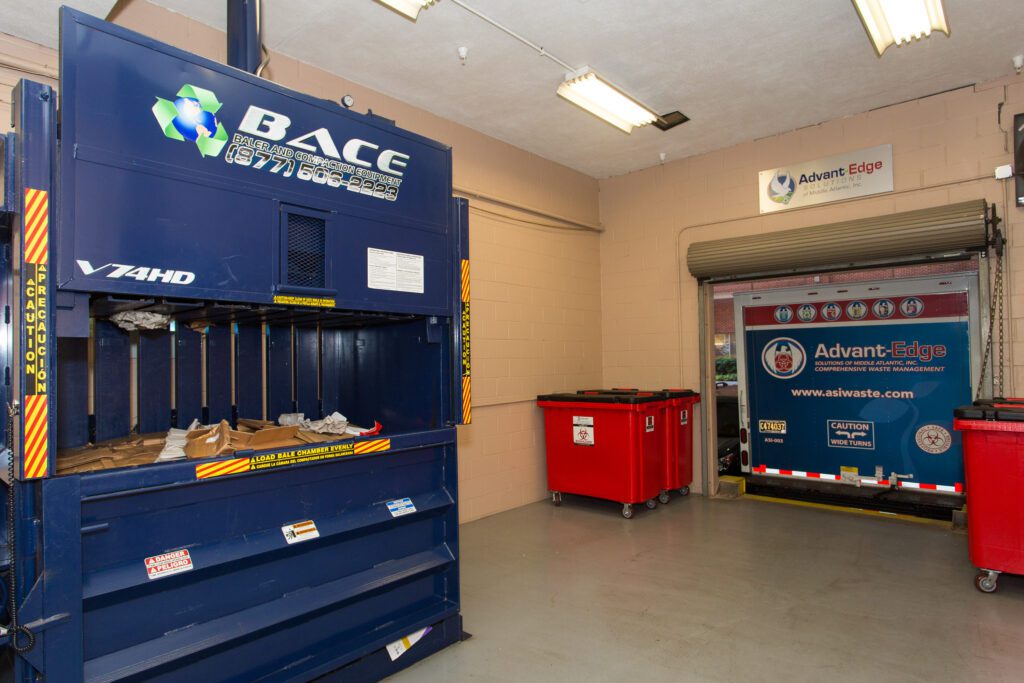 ASMAI offers comprehensive dock management programs to handle various waste streams at your facility. Our programs cover solid waste, recycling, regulated medical waste, reusable sharps container exchange, universal waste, and pharmaceutical waste management. With our services, you can expect:
On-site Supervisor and Staff: Our programs include an on-site supervisor and a dedicated team of professionals who will manage all the waste at your facility. They will oversee the collection, handling, and disposal processes, ensuring smooth operations and compliance with regulations.
Waste Collection from Central Points: Our staff will go to different areas and floors of your facility to collect waste and recyclables from central collection points. This approach ensures efficient waste management and eliminates the need for individual waste disposal by employees.
Packaging, Manifesting, Tracking, and Reporting: We take care of all the necessary tasks related to waste management, including packaging, manifesting, tracking, and reporting. Our team ensures that waste streams are properly documented and managed according to regulatory requirements.
Professional and Courteous Staff: Our uniformed staff members are trained to provide professional and courteous service. They understand the importance of customer satisfaction and will go above and beyond to meet your expectations.
Employee Training: We prioritize training and development to ensure our employees are equipped with the knowledge and skills to exceed customer expectations. This commitment guarantees a high level of service and expertise in waste management.
Compaction and Baling Equipment: As part of our dock management programs, we provide all the necessary compaction and baling equipment. This includes installation, preventative maintenance, and repair services. In the event of equipment downtime, we have backup services in place to minimize disruptions to your waste management operations.
Maximizing Returns for Cardboard: We typically install balers to help facilities maximize the return for their cardboard waste. This equipment efficiently compacts cardboard for recycling purposes, enabling you to optimize its value.
At ASMAI, we understand the importance of reliable waste management solutions. That's why we provide new or like-new equipment to minimize downtime. In the rare event of equipment issues, we have backup solutions in place to ensure uninterrupted waste management operations.
Count on ASMAI for efficient and professional dock management services that prioritize compliance, sustainability, and customer satisfaction. We are committed to delivering exceptional waste management solutions tailored to your facility's specific needs.
Reusable sharps container exchange services
Our sharps container exchange services offer a comprehensive program to handle the safe disposal of sharps waste. Here's how our full-service program works:
Installation of Brackets: We begin by installing brackets for reusable sharps containers throughout your facility. We strive to minimize disruption by utilizing existing holes from the brackets being replaced, reducing the need for extensive patching and painting.
Scheduled Exchanges: Our trained staff follows a pre-determined schedule to exchange full sharps containers with empty ones. This ensures that your facility always has an adequate supply of sharps containers and minimizes the risk of overflow or improper disposal.
Treatment Facility Delivery: The full sharps containers collected during the exchange process are transported to a licensed treatment facility for processing. We adhere to strict regulations and guidelines to ensure proper handling and disposal of sharps waste.
Trained Technicians: Our technicians are skilled in handling both sharps container exchange and regulated medical waste packaging. They have the expertise to safely package and load regulated medical waste for transport, ensuring compliance with applicable regulations.
Tracking and Reporting: We maintain a comprehensive tracking system for the sharps containers throughout the entire process. This allows us to provide you with accurate reporting, including a plastic diversion report. This report highlights the number of sharps containers that are diverted from the regulated medical waste stream, contributing to plastic waste reduction efforts.
Our sharps container exchange services offer a convenient and environmentally friendly solution for managing sharps waste. By participating in our program, you can have peace of mind knowing that your sharps waste is handled safely and in compliance with regulations. Trust ASMAI to provide efficient and reliable sharps container exchange services tailored to your facility's needs.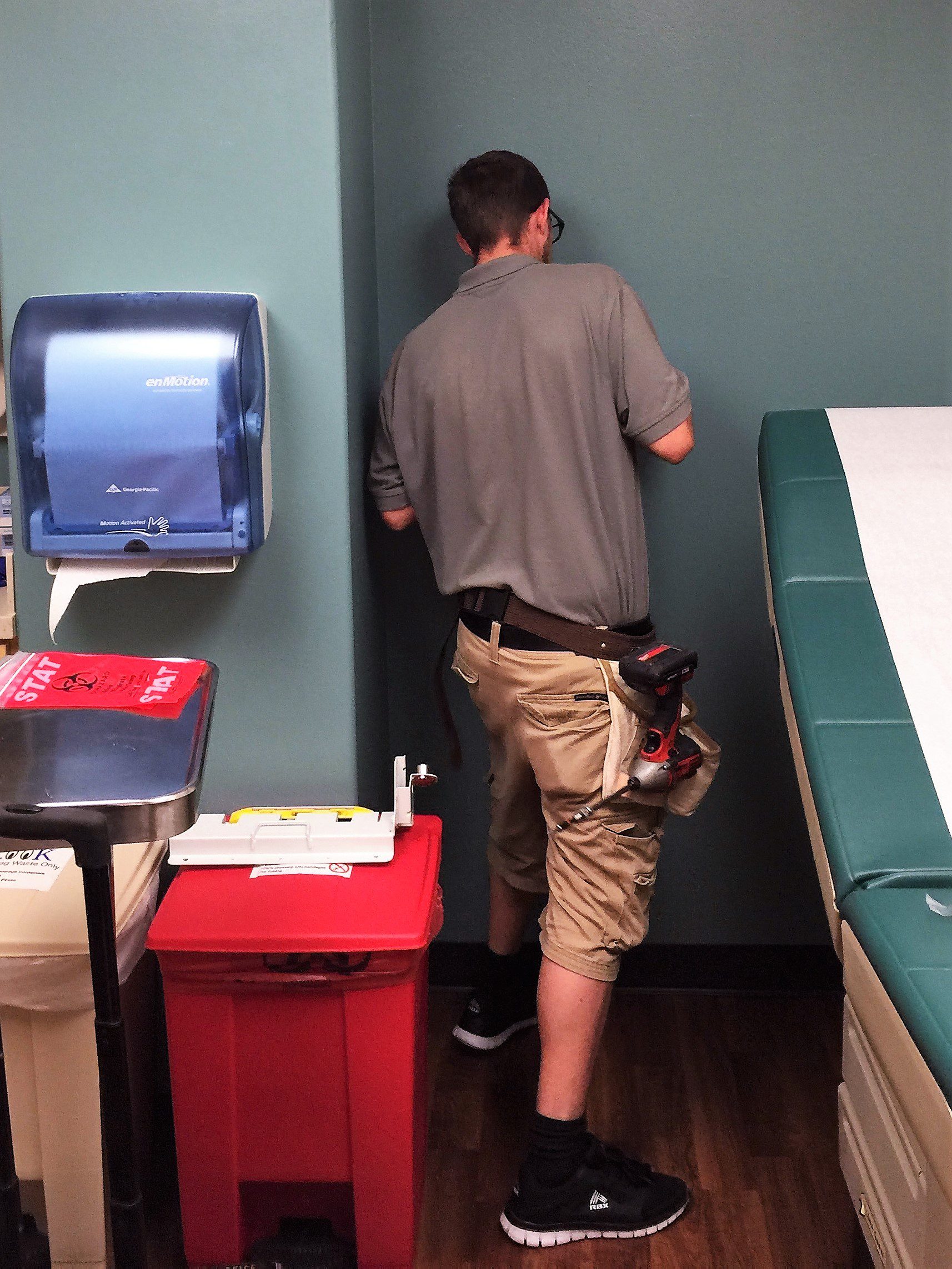 Contact us today to see what on-site services we can provide for your company!