ASI Waste Named Winner of 2021 BIG Innovation Award
NEWARK, DE—January 12, 2021—ASI Waste today announced it has been named a winner of the 2021 BIG Innovation Award for its ASI Waste Tracker, used by hospitals, clinics and health care facilities throughout the US.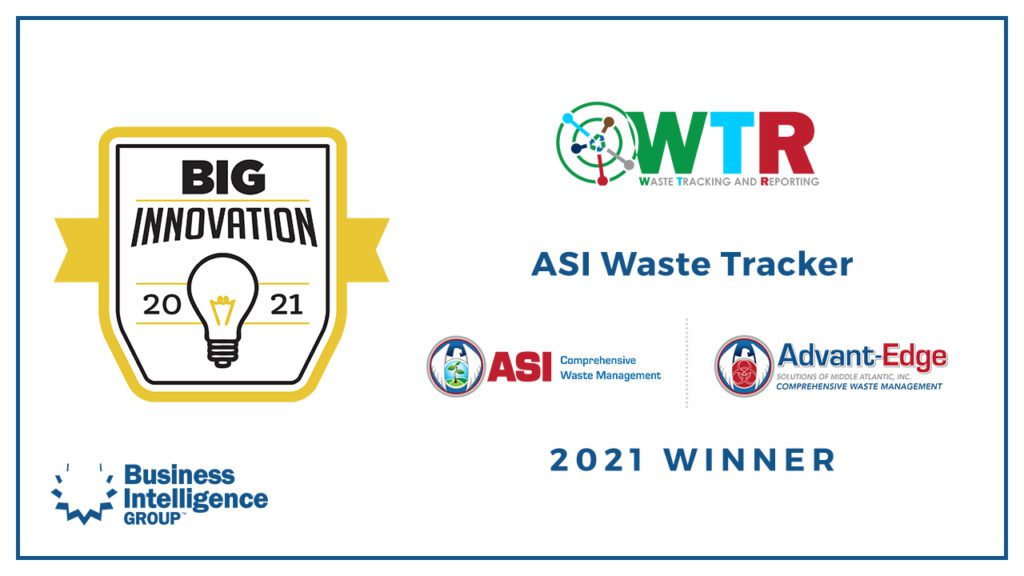 On January 12, 2021, the Business Intelligence Group (BIG) named seven executives, 52 companies, and 137 products as leaders and winners of the 2021 BIG Innovation Awards. This annual business awards program recognizes organizations, products, and people that are bringing new ideas to life in innovative ways.
The ASI Waste Tracker is a game-changing Software as a Service (SaaS) waste tracking solution that was launched in 2015. Since then, we have worked alongside our clients and development team to continually ensure that the ASI Waste Tracker remains the most efficient and effective waste tracking software available to hospitals, clinics and other healthcare facilities. We have combined a simple user interface with unparalleled reporting, estimating and comparison metrics not available in any competitive software. By creating a real-time environment which can precisely evaluate and reflect waste weights, costs and serve as a repository for manifests, contracts and other critical documents, we have established an invaluable tool, creating countless cost-saving and waste-avoidance opportunities for clients of all sizes.
"More than ever, the global society relies on innovation to help progress humanity and make our lives more productive, healthy and comfortable," said Maria Jimenez, chief operating officer of the Business Intelligence Group. "We are thrilled to be honoring ASI Waste as they are one of the organizations leading this charge and helping humanity progress."
The new year brings with it many new opportunities for other industries to take advantage of all of the benefits that the ASI Waste Tracker provides. We are launching a revamped SaaS version which will provide greater opportunities for industry-specific customization for customers from nearly any vertical.
We thank the Business Intelligence Group and the select group of business leaders and executives who volunteered their time and expertise to score submissions for this award. And we invite all of our clients, vendors and industry partners to continue joining us as we set even higher goals for service and innovation in the waste industry for years to come.
About ASI Waste
ASI Waste is a family of nationally recognized woman owned companies focused on the comprehensive management of various waste and recycling services. We specialize in developing waste and recycling programs for our customers that focus on landfill avoidance with optimal efficiency.
About Business Intelligence Group
The Business Intelligence Group was founded with the mission of recognizing true talent and superior performance in the business world. Unlike other industry award programs, these programs are judged by business executives having experience and knowledge. The organization's proprietary and unique scoring system selectively measures performance across multiple business domains and then rewards those companies whose achievements stand above those of their peers.