Earth Week is a Busy Week at ASI Waste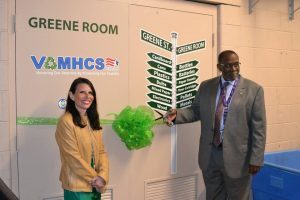 Each year, we welcome the opportunity to share our ideas and expertise with all kinds of folks at the facilities we serve throughout the Mid-Atlantic region. This year was very special and very busy as we partnered with fellow waste industry partners and longtime clients to deliver some wonderful events in the communities we serve.
The Greene Room at the Baltimore VA Medical Center
The team from ASI joined a number of folks from the Baltimore VA Medical Center for a ribbon cutting and launch of the new Greene Room at the massive facility on Greene Street in Baltimore. This room will assist those responsible for waste management at the facility in adding efficiency and better systemization to the waste stream. Sorting out pallets, metals, paper, plastics, cardboard and more takes time and space, but it can save facilities like this a tremendous amount of money while helping the environment. What's more is that this new addition to the Baltimore VA increases awareness among staff and visitors of the great steps taken by the VA to go green!
Earth Week at The Johns Hopkins University
We cannot speak highly enough about the steps that the leadership at The Johns Hopkins University have taken to innovate their waste stream and educate the folks working and studying at their schools and facilities. We had to opportunity to present to some wonderful people at The School of Medicine and The School of Nursing this past week. We also set up tables and had a great time speaking with students and staff alike alongside friends of ours from Reduction In Motion. The response from everyone was stellar and we look forward to returning again and again to support JHU in their mission to stay green.
What Can You Do?
There are loads of recycling and shredding events every year during the latter half of April. Here are just a few that we know:
Saturday, May 6, 2017
HAZARDOUS WASTE EVENT
Marple Transfer Station
895 Sussex Blvd., Broomall, PA 19008
http://netherprovidence.org/residents/public-works/hazardous-waste-events/
Saturday, April 29, 2017
SHREDDING EVENT
Mt. Pleasant Elementary
500 Duncan Road, Wilmington, DE 19809
*Free to Delaware residents
https://www.shredone.com/shredding-services/community-shredding-events
Saturday April 29, 2017
SHREDDING EVENT
Upper Providence Township Building
935 N. Providence Rd., Media, PA 19063
http://www.newtowntownship.org/wp-content/uploads/2017/03/QuinnShredderEventFlyer_3-17.pdf