The Companies of ASI Win 2021 Excellence in Customer Service Award

NEWARK, DE—April 20, 2021— The Companies of ASI Waste today announced they been named winners in the 2021 Excellence in Customer Service Award presented by Business Intelligence Group.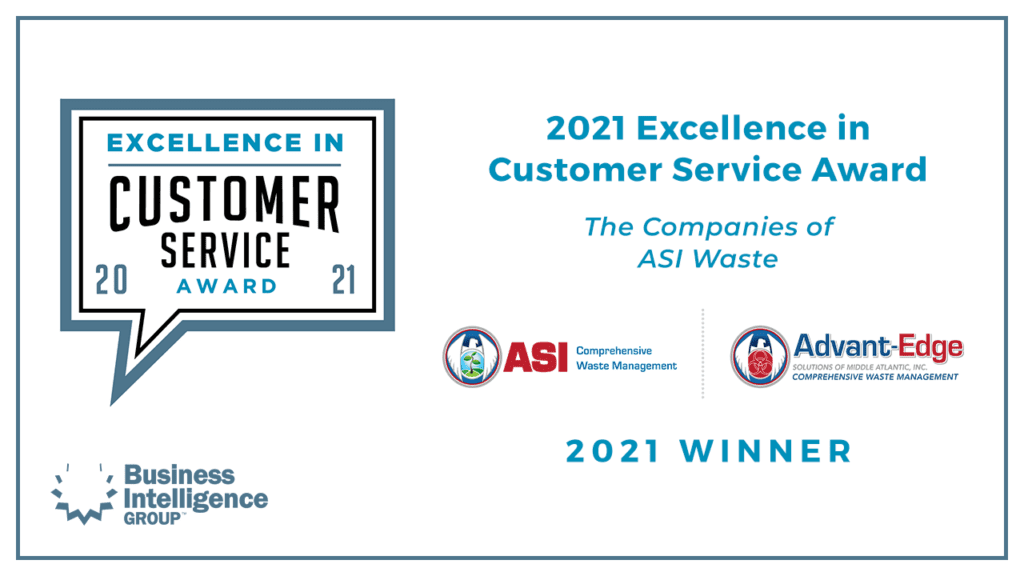 At ASI Waste, we built our business on a foundation of unmatched customer service for businesses, organizations, and institutions – large and small. We proudly serve privately held companies, multi-location businesses, municipal entities, governmental and non-governmental entities with the same attention to detail and high standard of respect that we've held since our founding day over a decade ago. Our dedication to exemplary customer service is the bedrock of what we have built at ASI Waste and will continue to serve as a core value in our operations for decades to come.
"On the frontline of our uncertain times are customer service professionals and suppliers without whom we wouldn;t be able to live as comfortably as we have for the last year," said Maria Jimenez, chief operating officer of the Business Intelligence Group. "It is our honor to recognize The Companies of ASI Waste as they are leading by example and making real progress on improving the daily lives of so many."
Organizations from across the globe submitted their recent innovations for consideration in the BIG Innovation Awards. Nominations were then judged by a select group of business leaders and executives who volunteer their time and expertise to score submissions.
About ASI Waste
ASI Waste is a family of nationally recognized woman owned companies focused on the comprehensive management of various waste and recycling services. We specialize in developing waste and recycling programs for our customers that focus on landfill avoidance with optimal efficiency.
About Business Intelligence Group
The Business Intelligence Group was founded with the mission of recognizing true talent and superior performance in the business world. Unlike other industry award programs, these programs are judged by business executives having experience and knowledge. The organization's proprietary and unique scoring system selectively measures performance across multiple business domains and then rewards those companies whose achievements stand above those of their peers.